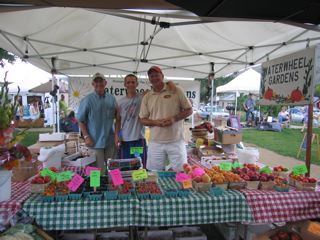 Product Type: tree fruits, berries, grapes, leafy greens, vegetables, herbs & flower, jams, canned fruits and salsa
Market: Ketchum and Hailey
Waterwheel Gardens is a small specialty farm on the east slope of the Emmett Valley near the beautiful Payette River in Idaho. Growing a variety of tree fruits, berries, grapes, leafy greens, vegetables, herbs & flower. For Your Health & Enjoyment!
Waterwheel Gardens is a family owned and operated farm. Kurtis Williams started the farm years ago and turned it into a business with his sons Matt and Noah. They get help from Putter and Raimy at the markets. They farm about 20 acres and produce many varieties of fresh fruits, berries and vegetables. The Williams have also make many products including jams, pickles, dried fruit and more. Their family has a fruit and vegetable stand at the farm and they sell their products at the Capital City Market in Boise. Their products can also be found at NourishMe in Ketchum, and the Sustainability Center in Hailey.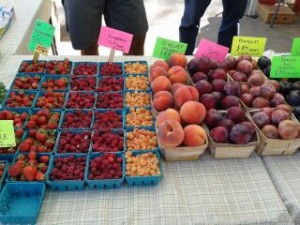 The William's family grows a variety of fruits including cherries, apricots, peaches, nectarines, apples, plums, pears, grapes, strawberries, raspberries, blueberries, blackberries, Boysenberries, Kotata Berries, melons, and a variety of vegetables including peas, corn, green beans, peppers, tomatoes, herbs, onions, cucumbers, squash, and more!
Canned products include: Red Currant Jelly, Mixed Berry Jam, Blueberry Jam, and Strawberry Jam, Applesauce, Pickles, Dilly Beans, Canned Fruit, tomatoes, juices to name a few

Waterwheel Gardens is owned and operated by the Williams family, Kurtis and his sons Matt, Noah, as well as with the help at the markets by Putter and Raimy.