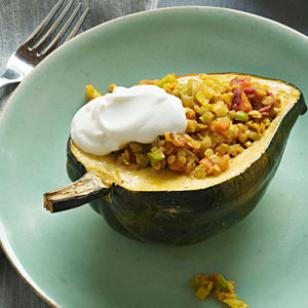 2 small acorn squash
4 teaspoons butter, melted
2 teaspoons honey
1 teaspoon garam masala
1/4 teaspoon sea salt
Stuffing
2 1/2 cups water
1 cup red lentils
3/4 teaspoon sea salt
2 tablespoons butter
2 teaspoons ground cumin seeds
2 cups chopped leeks
1/2 cup finely diced carrots
1/4 cup thinly sliced shallots or wall walla onions
1 1/2 tablespoons minced fresh ginger
1/2 cup finely chopped jalepenos
1 1/2 teaspoon ground coriander
1 teaspoon turmeric
2 medium tomatoes, chopped
1/4 cup chopped red pepper
fresh ground pepper to taste
1/4 cup plain yogurt (optional)
Cooking directions
Preheat oven to 350°F.
To prepare squash: Halve squash through the stem end; scoop out seeds. Place cut-side up on a rimmed baking sheet. Combine melted butter, honey, garam masala and 1/4 teaspoon salt in a small bowl; brush all over the cut sides of the squash.
Bake the squash for 10 minutes. Brush again to redistribute the butter. Continue to bake until the squash is tender, 30 to 35 minutes more. Keep squash warm in oven.
To prepare stuffing: Bring water, lentils and 1/8 teaspoon salt to a boil in a medium saucepan. Adjust heat so the water is lightly boiling and cook until the lentils are not hard, but still maintain their shape, about 7 minutes. Drain, saving any lentil-cooking liquid; set lentils and liquid aside.
Heat a medium skillet over medium heat. Add 2 tablespoons butter and cumin seeds and cook, stirring, until fragrant, 1 to 2 minutes. Stir in leeks, carrots, shallots, ginger and 1/8 teaspoon salt. Cover and cook, stirring occasionally, until the carrots begin to soften, about 10 minutes. Stir in jalapeños, coriander and turmeric and cook, stirring, 1 minute more. Stir in tomatoes and 1 cup of the reserved cooking liquid (if there isn't enough, make up the difference with water). Bring to a simmer, stirring occasionally, then cook for 5 minutes. Stir in the reserved lentils and simmer until they are soft and tender but not falling apart, 3 to 5 minutes. If the mixture seems dry, add more cooking liquid (or water). Stir in peppers. Season with the remaining 1/2 teaspoon salt and pepper. Divide the lentil stuffing among the squash (a generous 1 cup per half). Serve garnished with a dollop of yogurt.
Serves 4
You can purchase acorn squash, honey, leeks, red pepper, tomatoes, jalepenos, carrots, yogurt, onions and shallots at the markets.