The Ketchum Farmers' Market will be found in Ketchum Towne Square. Right across from Atkinson's and next to Starbuck's.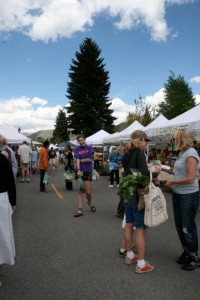 Parking is available in surrounding streets. We also recommend you ride your bike; there are bicycle racks located  within and at either end of the market street.
We encourage everyone to bring their own bags, we will have tote bags available at the markets to purchase.
The market is accepting food stamps! This is made possible in partnership with the Hunger Coalition and generous sponsors including The Sage School, DL Evans Bank, and NourishMe and our Fresh bucks program where you can double your money, spend $20 from your EBT card and get $40 while funds last to purchase fresh food.
Different musicians are featured each week for your enjoyment.
We have a great variety of vendors. You will find producers selling fruits, vegetables and flowers seasonally available, honey, cheese, eggs, meats, as well as prepared food offerings including salads, soups, crackers, cookies, sliders (beef) and many other products. Lots of baked goods, artisan breads, pies and other desserts, jams, jellies, sauces, and dressings. Health products and body lotions. Some crafts including jewelry, pottery, handmade wood products, cutting boards, dog bowls and more.  Bring your outdoor market basket along, or buy one there!
List of vendors at the Ketchum Market
Also see each vendors bio under the menu item Vendors/Vendor Bios. Note that while most vendors are at the Market every week, some vendors are at the market on a part time basis.
Bangles, Baubles and Beads – Hailey, ID bronze, silver and copper jewelry utilizing leather gemstones and pearls
Pinckchef bowls – Stanley, ID functional and artistic forms of wooden bowls using a lathe and gauge.
Prairie Sun Farm – Fairfield, ID Veggies and fruit, eggs, honey, mustards, pickles, jams
Lost River Meats – Mackay, ID Sausages, salamis
Black to Life – Ketchum, ID carbonized bamboo to aid health
Deer Creek Berry Farm – Pine, ID Blueberries, juice, jams
Lava Lake Lamb and Livestock – Hailey, ID Cuts of frozen sheep meat, dog treats
SJ Woodworks – Wood cutting boards, mirrors, utensils
Waterwheel Gardens – Emmett, ID Fruits and Vegetables, jams, salsas, dried fruit, frozen fruit
Brick Oven Bakery – Buhl, ID pies
Kings Crown Organics – King Hill, ID Certified organic fruits, vegetables, frozen cuts of beef
Sun Valley Remedies – Sun Valley, ID handmade organic body products including lotions, scrubs, oils
Jam Designs – Ketchum, ID skirts, scarves, shawls, jewelry
Idahound – Ketchum, ID sheep and goat dog food
Wood River Greens – Hailey, ID micro greens, sprouts
Radiance Fine Art Photography – Boise, ID photography
Recycled Glassware Co. – Boise, ID recycled glasses, vases
Bucksnort Soda Company – Boise, ID homemade sodas
The Haven – Ketchum, ID prepared food salads, soups, sandwiches, tacos
Wood River Ranch Beef – Bellevue, ID grass fed frozen cuts of beef, ready to eat burgers and sliders, beef sandwiches, beef salads, beef wraps, soups
Katie's Kakes – Bellevue, ID gourmet cupcakes
Sawtooth Brewery – Hailey, ID Beer
La Parilla – Ketchum, ID tacos
The Bead Shop – Hailey, ID jewelry
Peruanita  – Sun Valley, ID Shaved ice, pastries, lemonade
Flying Fridge Magnets – Bellevue, ID magnets
Crossings Winery – wine
Picabo Desert Farm – Richfield, ID Frozen cuts of elk meat, goat cheese, yogurt, popsicles
Kernworks – Hailey, ID Hand sewn fabric including napkins, pillows, skirts, wallets, baby blankets, fleecewear,
Shooting Star Farm – Hailey, ID vegetables greens, squash, tomatoes
Classic Lines Pottery – Boise, ID pottery
M & M Heath Organics – Buhl, ID Certified organic produce potatoes, tomatoes, squash, peas etc.
Crystal Gardens – Buhl, ID hanging flower baskets, flower pots, plants,
Wood River Sustainability Center – Hailey, ID local prepared food baked bread, eggs, salsas, spreads, salad dressings
Sweet Indulgence – Hailey, ID baked goods including gluten free options
Nonna's of Sun Valley – Frozen ready made pasta dinners, tomato based sauces
T and M Gardens – Twin Falls, ID fruit and vegetables, jams
Rasberry's – Ketchum, ID ready made prepared foods, baked goods, soups, dinners
Bread Werks – Ketchum, ID Artisan breads
Animal Shelter – Hailey, ID hats made by Jytte, and hand crafted jewelry made by Sarah Long Dog Toys made by Christine Furgeson all made for the shelter.
Summit Designs – Hailey, ID Jewelry
Luda – Buhl, ID fruits and vegetables, jams, pickles,
My Urban Poncho – Ketchum, ID ponchos
Rivers Edge Orchard – Buhl, ID
Idaho Mud – Bellevue, ID hand made hand painted pottery
La De Da – Boise, ID Jewelry
Wood River Naturals – Hailey, ID lotions
Extravanganzo Gourmet Foods – Boise, ID oils, vinegars
Peanut Gallery – Hailey, ID soy candles, hand painted coffee mugs, vinyl decals
Kelejete – Nutritional jete bars
Lavender Goddess – lavender products
Wagonwheel Produce – Hazelton, ID hydroponic produce tomatoes, cucumbers, strawberries, greens
Warfield Distillery -
Wood Creations – Hailey, ID wood work dog bowls, cutting boards, bird feeders
Arin Arthur Textiles – scarves
Because Project – Ketchum, ID handcrafted candles in reclaimed wine bottles, essential oils and 100% beeswax, oil bottles