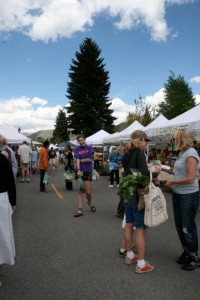 The Ketchum Farmers' Market can be found in downtown Ketchum at the intersection of East Avenue and 4th Street, just east of Atkinson's Market and Giacobbi Square. Look for the tents, you can't miss us. See the map below.
2:00 to 6:00 P.M. – Tuesdays – June 14 through October 11, 2016
Parking is available in surrounding streets. We also recommend you ride your bike; there are bicycle racks located  within and at either end of the market street. Occasional raffles will be given so look for the managers booth and drop your name in the jar.  Winners will be picked at 4:00PM. We encourage everyone to bring their own bags, we will have tote bags available at the markets to purchase.
We have several new vendors this year. You will find producers selling fruits, vegetables and flowers seasonally available, honey, cheese, eggs, meats. This year there will be more great prepared food offerings from  Best of Bellevue, Raspberry's, Nourishme, Wood River Ranch and Blue Sage Farm including salads, soups, crackers, cookies, gyros (lamb and cheese), sliders (beef) and many other products. Lots of baked goods, artisan breads, pie and other desserts, jams, jellies, sauces, and dressings. Some crafts including jewelry, pottery, handmade wood products, cutting boards, dog bowls and more. There will be a knife and tool sharpener every Tuesday, so bring your garden tools and kitchen knives to get them in great working condition and ready for the season. Bring your outdoor market basket along, or buy one there!
The market is now accepting food stamps! This is made possible in partnership with the Hunger Coalition and generous sponsors including The Sage School, DL Evans Bank, and NourishMe and our Fresh bucks program where you can double your money, spend $20 from your EBT card and get $40 while funds last to purchase fresh food.
Different musicians are featured each week for your enjoyment.